Join the KOHO Talent Community!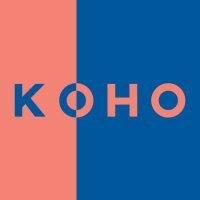 KOHO Financial
People & HR
Canada
Posted on Wednesday, July 6, 2022
About KOHO
KOHO's purpose is to empower Canadians to build a great financial foundation with products that are radically transparent and easy to manage. Our journey began in 2014, and we have since built a community of over 800,000 users. Leading investors around the globe believe in our vision, and we've successfully raised over $320M to make our vision a reality.
The KOHO collective has grown to 300+ employees to date. Discover our culture
here
and get the inside scoop from our team
here
!
We Have Something for Everyone!
Didn't find a role matching your profile and experience?
Feel free to submit an application and keep in touch with us for future opportunities! We are always seeking talented individuals who want to make an impact and join us on our
mission
.
When submitting your application, please identify which department(s) you'd be most interested in joining, and one of our Talent Partners will reach out if a suitable position opens up. We'll also stay connected with you about potential opportunities and you'll receive alerts about any new roles that match your experience! We hope to connect with you in the near future!
What's In It For You?
We invest time and resources into making sure KOHO is as good as the people we hire. Here are some of the reasons we attract and keep the best people:
• Balance Your Life
- Company-wide Summer wellness days, Winter holiday closure, unlimited Personal Days, a wellness spending account, and maternity & parental leave top-up.
•
Remote First
- Work from anywhere in Canada with a budget to set up your home office
•
Level Up
- Access to 3 in-house certified performance coaches and an annual training budget.
•
Reach Your Goals
- Salary assessments twice per year.
•
The KOHO Culture
- We have won 7 "Great Place to Work ®" awards since 2019.
• Be An Owner - Every KOHO employee gets a generous amount of equity with a 10 year exercise window.